---

The Health & Behavioral International Collaborative (HBIC) Award is designed to facilitate collaborations with international lab or research group under the guidance of a mentor. The award is intended for graduate students, residents, professional students and early career professionals.
Learn more about the HBIC 2023 Award Competition at: https://www.ibtnetwork.org/home/training-initiatives/hbic-award-overview/
Application period begins November 30.
Apply by March 10.
The HBIC Award program is seeking new candidates for its mentor pool.
Mentorship collaborations are initiated by early career researchers who are responsible to identifying and proposing a project to prospective mentors. Research or program development projects must be in the areas of health research, clinical behavioral health, behavioral medicine, or health promotion, and must be feasible within one year.
Learn more about the HBIC 2023 Award Competition
Read the FAQ for Mentors
Interested? Submit your name to the mentor pool
Suggested deadline for the 2023 competition: December 23
---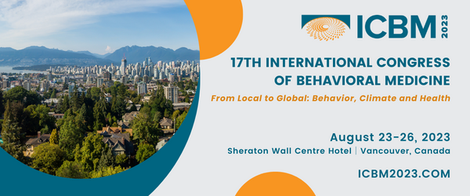 Thanks to everyone who has already submitted an abstract for the Congress - we are delighted to see that so many of you are planning to present.
We are extending the overall submission deadline until December 10, 2022 (11:59PM PDT). Please note that all abstracts, including those that are being submitted for symposia have to be received by the Congress Secretariat by the above deadline. No further extension will be granted.
Track Categories and Guidelines can be found on the Congress Website.
Presenters will be notified in March 2023 about the acceptance of their abstract. 
All presenters are expected to attend and present in person. Only keynote and master lectures, as well as selected symposia, will be made available online. 
---
ISBM will present up to ten Early Career Awards to encourage and support careers in behavioral medicine. Selection of the Early Career Award is based on total career achievement and review of an accepted abstract. Priority may be given to applications from countries with limited resources, and/or representatives from different geographical regions. To qualify for an award, the applicant has to meet the following eligibility criteria:
Should be no more than seven (7) years out from their highest degree and/or
Have held a faculty or professional position for no more than seven (7) years.
Must submit an abstract of empirical work.
Must be the first or only author of the accepted abstract.
Attendance and presentation at the congress is required.
The submission deadline is December 10. To learn more, visit the Congress Website. 
---
We are excited to announce the master lecturers for ICBM 2023. A preliminary program is available on the Congress Website and we will be introducing each speaker and their presentation topic more over the next few months - stay tuned!
---
We have an upcoming ISBM election in 2023 and now is the time to solicit  candidates for the open positions on the ISBM board. We need all you to support our efforts to ensure a continued strong ISBM leadership after the election, by encouraging members of your societies to consider this opportunity to engage with the strategic leadership work of the ISBM and by suggesting relevant candidates.
The positions we need to fill at the upcoming election are:
ISBM President-Elect (length of term: 2 years)
ISBM Education and Training Chair (length of term: 4 years)
ISBM INSPIRE Chair (length of term: 4 years)
ISBM International Collaborative Studies Committee Chair (length of term: 4 years)
ISBM Organizational Liaison Committee Chair (length of term: 4 years)
I hereby urge you to name nominees for each open position. The deadline for nomination is April 17, 2023.
More information can be found here.
For questions or to discuss potential candidates, please reach out to Mette Terp Høybye, ISBM Nominations Committee Chair, at Mette.Terp.Hoybye@rm.dk.
---