---

Boost your research with an international mentor!
The Health & Behavioral International Collaborative (HBIC) Award is designed to facilitate collaborations with international lab or research group under the guidance of a mentor. The award is intended for graduate students, residents, professional students and early career professionals.
Learn more about the HBIC 2023 Award Competition at: https://www.ibtnetwork.org/home/training-initiatives/hbic-award-overview/
Application period begins November 30.
Apply by March 10.
---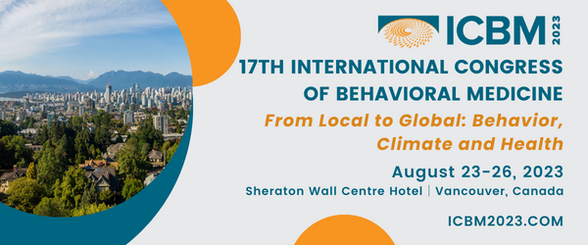 The Congress is now accepting submissions for late-breaking abstracts for both oral and poster presentations. The submission deadline is March 30, 2023 and guidelines can be found on the Congress website.
---
This new article in the journal Translational Behavioral Medicine is highly relevant to the behavioral medicine community and may be of interest to ISBM members.
The author team includes a group of international collaborators, including Joost Dekker (Amsterdam UMC, Amsterdam, The Netherlands), Samuel Sears (East Carolina University, Greenville, North Carolina, USA), Pernilla Åsenlöf (Uppsala University, Uppsala, Sweden), and Katherine Berry (University of Manchester, Manchester, UK). Notably, Joost Dekker and Pernilla Åsenlöf are also members of the ISBM Board.
The authors define "psychologically informed health care" as "the comprehensive integration of psychological principles into healthcare". They discuss key characteristics, illustrative vignettes, and future directions for this model of care.
The article is available (open access) at: https://doi.org/10.1093/tbm/ibac105
You can also contact Joost Dekker, the corresponding author, at j.dekker@amsterdamumc.nl.
---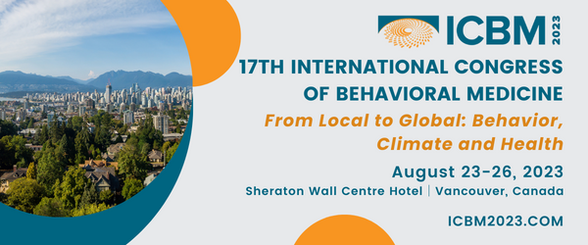 One more week until registration opens for ICBM. Registration fees are available on the Congress website.
ICBM has also negotiated preferred hotel room rates at the Congress Hotel. Rooms will be available for booking via the registration site. Preferred rates will be available 3 days prior and post Congress (based on availability) if you wish to extend your stay to explore Vancouver and its surroundings. By booking a room at the Congress hotel, you help the organizer to keep cost down for the meeting. 
If you are travelling to Canada from outside the country, please take a look at the travel and visa information posted here. Based on the current processing times for visa, it is recommended to apply 5 months prior to travelling.
The submission for pre-congress workshops remains open until January 31, 11:59pm Pacific Time. Track Categories and Guidelines can be found on the Congress Website. All presenters are expected to attend and present in person.
Let your network know about ICBM 2023 and help spread the word about the Congress. We provide you with various promotional tools such as social media graphics, a digital flyer, presentation slide, email signature and more.
---
Now entering its third year, the ABMR ESI program provides leadership training and mentorship to promising behavioral medicine researchers. The leadership program, led by Dr. Norm Anderson, helps people identify their short- and long-term career goals and teaches leadership qualities relevant to research and teaching.
The theme of this year's workshop is "Fostering Your Leadership Journey and Growing Your Network." Co-led by Dr. Everson-Rose, Dr. Hall, and Dr. Revenson, the workshop is designed to build an active, engaged support network of near peers. Individuals who are selected will be expected to attend the ABMR annual meeting to be held at the Banff Centre for Arts and Creativity in Banff, Alberta from June 8-12, 2023. The theme of the 2023 meeting is "Advancing Behavioral Interventions Across the Life Course." In past years, awardees received funding to cover the cost of travel, lodging, food, and the conference fee. At this moment, while funding is expected, it is not guaranteed, and depends on the receipt of funding through an NIH conference grant.
Individuals are eligible if they are:
Within 10 years of their terminal degree, and
The Principal Investigator (PI) of a current NIH-funded K-series or equivalent award (e.g., KL2 award from CTSA), or PI of a first R-series award or equivalent independent research award.
Nomination packages should include:
A cover letter (1-page maximum) written by the candidate expressing their current interest in behavioral medicine research.
Candidate's updated CV
Letter of support from a senior faculty colleague. The faculty member is

not

required to be a member of ABMR.
Submitting your nomination: Send all materials in one email to Jaclyn Sadiua, ABMR administrator, at info@academyofbmr.org with "2023 ABMR ESI Program application" in the subject line.
See https://www.academyofbmr.org/esi-program for more information on the selection process, program activities, and more. For any questions, please email us at info@academyofbmr.org.
---
The last monographic issue of the online journal Psychomed has been published online. Psychomed is a four-monthly online journal on psychotherapy, behavioral medicine, health and preventive psychology, published by the Center for Research in Psychotherapy (CRP), jointly with the Italian Society of Psychosocial Medicine (SIMPS), the Italian Association for Preventive Psychology (AIPRE), LIBRA, ALETEIA. You can learn more about the journal at: https://www.crpitalia.eu/psychomed.html
The current issue contains two selected posters from the 2021 Virtual International Congress of Behavioral Medicine. The issue is available open-access at: https://www.crpitalia.eu/images/psychomed/Psychomed2021F.pdf
---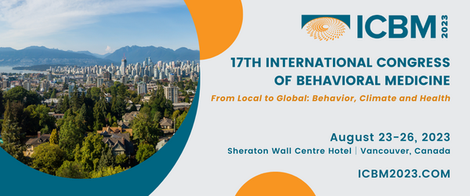 Upon request from some of you, we are keeping the abstract submission portals open over the holidays. You will have until Wednesday, January 4, 11:59pm PST to still submit an oral, poster or workshop abstract. Symposium submission has been closed.
Track Categories and Guidelines can be found on the Congress Website.
Presenters will be notified in mid-March 2023 about the acceptance of their abstract. 
All presenters are expected to attend and present in person. Only keynote and master lectures, as well as selected symposia, will be made available online. 
---
ISBM will present up to ten Early Career Awards to encourage and support careers in behavioral medicine. Selection of the Early Career Award is based on total career achievement and review of an accepted abstract. Priority may be given to applications from countries with limited resources, and/or representatives from different geographical regions. To qualify for an award, the applicant has to meet the following eligibility criteria:
Should be no more than seven (7) years out from their highest degree and/or
Have held a faculty or professional position for no more than seven (7) years.
Must submit an abstract of empirical work.
Must be the first or only author of the accepted abstract.
Attendance and presentation at the congress is required.
The submission deadline is January 4, 2023 at 11:59pm PST. To learn more, visit the Congress Website. 
---
We have an upcoming ISBM election in 2023 and now is the time to solicit  candidates for the open positions on the ISBM board. We need all you to support our efforts to ensure a continued strong ISBM leadership after the election, by encouraging members of your societies to consider this opportunity to engage with the strategic leadership work of the ISBM and by suggesting relevant candidates.
The positions we need to fill at the upcoming election are:
ISBM President-Elect (length of term: 2 years)
ISBM Education and Training Chair (length of term: 4 years)
ISBM INSPIRE Chair (length of term: 4 years)
ISBM International Collaborative Studies Committee Chair (length of term: 4 years)
ISBM Organizational Liaison Committee Chair (length of term: 4 years)
I hereby urge you to name nominees for each open position. The deadline for nomination is April 17, 2023.
More information can be found here.
For questions or to discuss potential candidates, please reach out to Mette Terp Høybye, ISBM Nominations Committee Chair, at Mette.Terp.Hoybye@rm.dk.
---